One of my favorite things to shop for is purses and bags. I love them! I love the different styles, colors and patterns. I found this Anthropologie purse below on Pinterest and I am head over heels with the inside fabric pattern. So guess what I did? Yes, you guessed it. I made a layout based on this design.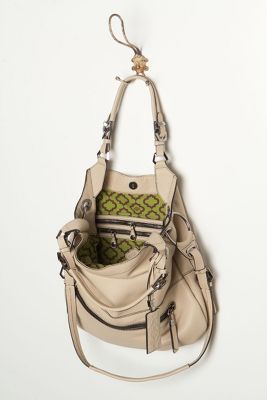 On its own, this purse is pretty and functional. It's got a basic cream-colored exterior with a lot of details – pockets, zippers, handles, and buckles. But the interior is like a hidden surprise – the pattern and color add sophistication at the same time that it adds whimsy. It's a great pop of unexpected color. I used that combination – a neutral with a bright patterned color – as the inspiration for a scrapbook layout.
All supplies from Designer Digitals | Paper: Krafty Ledger Paper Pack (kraft paper) by Katie Pertiet. Elisha: Rainbow Paper Pack (red patterned paper) from Maplebrook Studios. Ripped and Stitched Wordwise (ripped paper) by Lynn Grieveson. Frames: Vintage Photo Frames No. 29 by Katie Pertiet. Alphabet: Elfin Magic Kit by Katie Pertiet. Stitching: Assorted Messy Stitches No. 07 Super Pack (white) and Embroidering Accents No. 01 (blue) by Katie Pertiet. Epoxies: Call the Doctor! Kit (red and white heart) by Pattie Knox and Aeronaut Kit (blue and white heart) by Lynn Grieveson. Phrase tags: Jessie Kit (wonderful tag) by Lynn Grieveson and Patched Memories No. 01 (memories tag) by Katie Pertiet.
This layout started out very differently than it looks now. As many other scrapbookers can probably relate to, I didn't like the way the layout looked at first. I started with kraft paper as my background and then layered the framed photos on the red patterned paper. But the red paper was so busy that the photo details got lost. I played with different papers, switched them around and ended up just flipping the order of my original papers. Essentially, it's the same colors and patterns we see in the purse, just in the opposite order – the pattern is on the outside and the kraft forms the inner layer.
Once I decided on the paper order, I added in the details – torn paper layered behind the photos, stitching and blue embroidery, and some tabs and epoxies. I added the title and journaling underneath the photos to finish it off.
Creative inspiration is all around us and you can find it everywhere – even in a purse. Don't be afraid to add your own touches, too – that's what makes the creative process so fun. I hope that you are inspired by these colors and pattern combinations, too. Let me know where you find inspiration and maybe I'll use it in a future column. You can also follow my Pinterest boards here.