While browsing through Pinterest this week, I was struck by the patterns on these bowls by Anthropologie. I love the way the patterns interact with each other.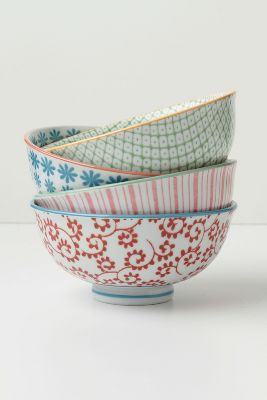 These porcelain bowls showcase four different designs: daisies, diamonds, stripes and vines. Combining these varying designs with four different colors creates a striking photo. I also love the way the trim on each bowl is a contrasting color. It's a subtle touch that adds a bit of whimsy to each bowl.
While this photo does a beautiful job of marketing bowls for Anthropologie, it also provides wonderful inspiration for a scrapbook layout.
All supplies from Designer Digitals | Patterned Paper: Vintage Library Paperie No. 03 by Katie Pertiet. Cardstock: Classic Cardstock: Coral Charm Paper Pack by Katie Pertiet. Stitched Embellishments: Embroidering Accents. No. 01 (embroidery) and Crocheted Doilies: Red No. 01 (doily) by Katie Pertiet. Flowers: Spring Song Mini Kit (peach flower) and Goodness and Light Element Pack (cream flower and brad) by Andrea Victoria. Banners: Banner Labels No. 01 (orange banner) by Katie Pertiet and Life Banners Brushes and Stamps (teal banner) by Ali Edwards. Staples: Classic Curled Photo Frames No. 01 by Katie Pertiet.
There was a lot of inspiration to be found in the photo! I decided to mimic the mixing of patterns as well as the crescent shapes of the stacked bowls. To accomplish this, I used the elliptical marquee tool in Photoshop Elements and cut out sections of patterned paper. I then layered them on top of each other, slightly turning each layer to mimic the haphazard stacking of the bowls. I also made sure that my paper patterns were from the same kit – that way, they would coordinate with each other while still allowing me to mix the patterns. I added some stitched embellishments, as well as some banners and journaling, to finish the layout.
While my layout is entirely digital, this layout would be just as easy to recreate with traditional paper products. Try layering patterned papers on top of each other and see what you come up with!
I had a lot of fun playing with patterns this week and combining papers. I hope that you are inspired by this photo, too. Let me know where you find inspiration and maybe I'll use it in a future column. You can also follow my Pinterest boards here.
Want to stay up-to-date on all the latest scrapbook news?