While looking through Pinterest this week, I was drawn to this photo immediately. At first, it felt a bit boring to me and I wasn't sure why I was drawn to it.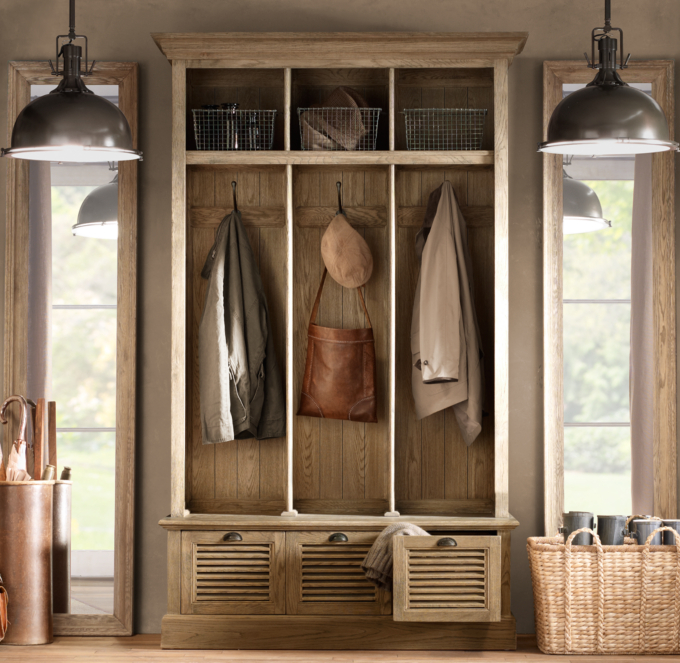 However, the more I looked at it, the more I liked it. There is an understated elegance to it that comes from the layering of neutrals. This beautiful locker is centered perfectly in the middle of the photo and the accents only complement the symmetry of the entire photo. Built of oak and stained with a weathered finish, the locker is solid and grounds the photo. And the different neutrals of the locker and the hardware lend a simple elegance to the entire photo.
This is a beautiful photo and does a great job of marketing this hallway locker for Restoration Hardware. As a scrapbooker, I decided to use it as an inspiration for a layout built on a neutral palette.
All supplies from Designer Digitals | Patterned Paper: Krafty Elegance Paper Pack by Katie Pertiet (floral swirl paper) and Krafty Ledger Paper Pack by Katie Pertiet (grid and lined papers). Cardstock: Krafty Ledger Paper Pack by Katie Pertiet. Flowers: Elise Kit by Lynn Grieveson and Yesteryear Element Pack by Katie Pertiet. Photo turn:  Yesteryear Element Pack by Katie Pertiet. Word Art: Fine Lines Titles No. 02 Brushes and Stamps by Katie Pertiet.
Just as there are layers of neutral items in the inspiration photo, I wanted to build my layout on layers of neutral paper. I started by framing the page with a piece of kraft cardstock and then added a trimmed piece of floral kraft paper on top of the cardstock. Because the photos also contain florals, I didn't want them to blend into the background so I added yet another layer of patterned kraft paper – this time a kraft paper with a weathered-grid pattern. I trimmed yet another piece of neutral paper to ground the journaling and added a few fabric flowers to the edge of the photos. I finished the layout by adding a metal photo turn and a slightly-darker title – similar to the hues found in the hardware in the inspiration photo.
I had a lot of fun playing with a completely neutral color palette and love the simple elegance that it adds to the feel of the layout. I hope that you are inspired by this photo, too. Let me know where you find inspiration and maybe I'll use it in a future column. You can also follow my Pinterest boards here.
Want to stay up-to-date on all the latest scrapbook news?